Next event: BASCD Spring Scientific Meeting 2020
Registration is now open!
Click here to register for our Spring Scientific Meeting 2020
Addressing inequalities: Celebrating improvement: BASCD 2020
#BASCD2020 #weareBASCD #STRONGERTOGETHER
Date: 2nd and 3rd April 2020
Location: City Hall, Cardiff
Quality Assurance Information available here
For full programme click here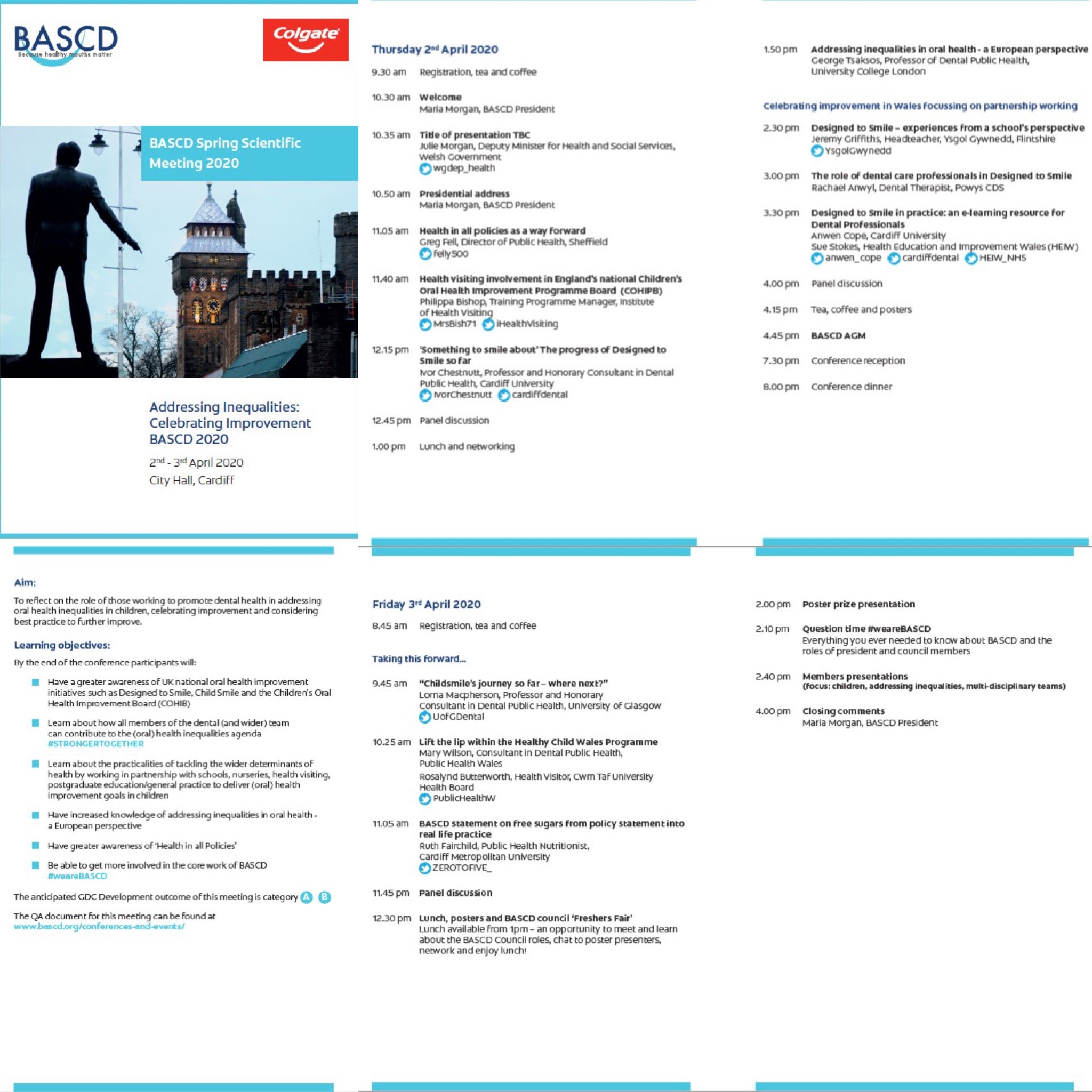 CALL FOR ABSTRACTS – Deadline extended to 21st February
Posters and members presentations
The theme for this year's Spring conference is Addressing Inequalities – Celebrating improvement in children's oral health but also looks to best practice and the evidence base to help improve things further. BASCD welcomes abstracts on this theme for posters and for members presentations.
Posters
At least one of the abstract authors must be a member of BASCD (for details on how to become a member of BASCD please see our  Membership page) Submissions from trainees and younger members are particularly encouraged.
We are holding two poster competitions AND have a general dissemination category of presentation:
The Roger Anderson Poster Prize, in memory of our 1979/80 BASCD President £200.00 cheque and certificate. This covers any relevant area of community dentistry/public health involving an evidence-based approach to address population health, service development or oral health inequalities.
An Oral Health Promotion Research Prize – £200.00 cheque and certificate. The prize aims to facilitate collaboration between academics and oral health promoters and encourage the dissemination of good oral health promotion practise and evaluation among the BASCD membership.
Dissemination category– these are posters which are not entered for a prize – particularly those which have been previously presented at another scientific conference, but which are of interest to BASCD members.
Please note that posters need to be displayed for both days of the conference and the author must stand by their poster during the poster viewing time on Friday 3rd April 2020.
Members Presentations
Time has been set aside on the second day of our Spring conference, Friday 3rd April for members presentations on topics relevant to the conference theme described above.  Members presentations are an important part of BASCD conferences and allow members to disseminate their current work to the association. Abstracts which best meet the theme of the conference may be invited to give a 15 minute verbal presentation, followed by a 5 minute discussion.
Abstract Submission
Please complete the abstract submission form available via the Survey Monkey link https://www.surveymonkey.co.uk/r/DTFXMM2
using the guidance below. (You may need to press Ctrl and click to action the link or copy and paste it into a new browser window)
For author's names please use the format: Smith AB, Jones CD
Please limit your abstract to 200 words and ensure it is structured following the named sections: -Introduction, Objectives, Methods, Results, Conclusion
Indicate whether you would also like to be considered to do a short verbal member's presentation
Indicate whether you would  like to be considered for either of the poster prize categories
Please note at least one of the poster authors must be a member of BASCD to qualify.
Abstracts will be reviewed by the committee and their decision will be final.
At the conference posters will need to be presented no larger than A0 Portrait format (84.1cm x 118.9cm).  Poster boards will be set up portrait style, Velcro poster dots will be provided. You will be informed of your poster number to identify the appropriate place to mount your poster.
 Closing date for abstracts is 12 noon on 21st February 2020.
If you have any queries, please contact the BASCD Administrator BASCD@outlook.com