The British Association for the Study of Community Dentistry (BASCD) is keen to encourage researchers in the field of population oral health. To support this, BASCD offer four awards including two poster prizes which are the Roger Anderson Poster Prize and Oral Health Promotion Poster Prize. Both were awarded at the recent BASCD Summer Scientific Meeting held in Glasgow in June 2022.
Ten posters were presented for the Roger Anderson prize which attracted posters covering areas of relevance from community dentistry/public health involving an evidence-based approach to address population health, service development or oral health inequalities. Six posters were presented for the Oral Health Promotion prize which promoted collaboration between academics and oral health promoters and encouraged the dissemination of good oral health promotion practise and evaluation among the BASCD membership.
Albert Yeung, BASCD President, presented both poster prizes and said: "This year's standard was so high the judging panel thought it appropriate to award a Commendation in addition to each of the winning posters."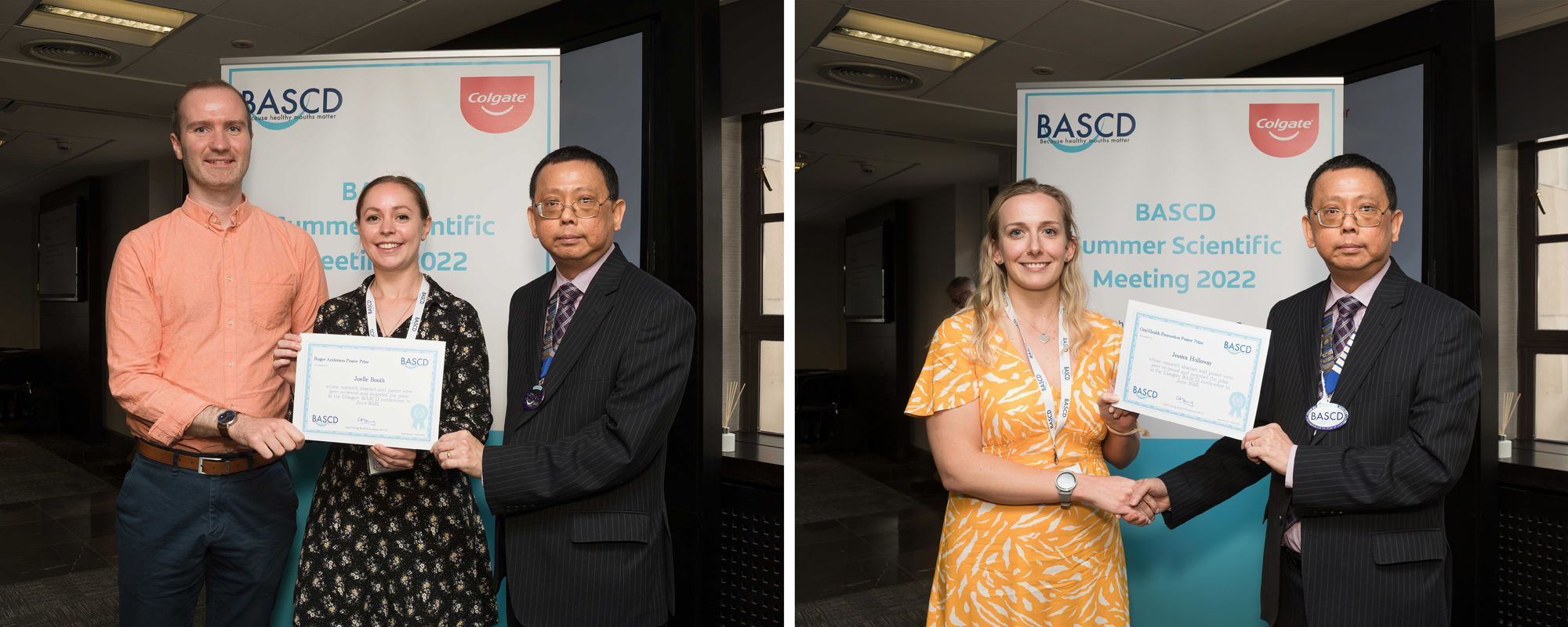 Photo: (left to right) Niall Mc Goldrick with presenter Joelle Booth with Albert Yeung. Presenter Jessica Holloway with Albert Yeung
Roger Anderson Poster Prize
Winning poster: Oral health within the justice system, involving the public in research design.
Submitted by Booth AJ, Mc Goldrick N, Wanyonyi K from Queen Mary's University of London and University of Dundee and presented by Joelle Booth.
Commendation: Suicide risk and prevention of patients attending Adult Dental Trauma Clinic.
Submitted by Barrett D, Patel KB, Patel M from Barts Health Trust and presented by Danielle Barrett.
Oral Health Promotion Poster Prize
Winning poster: A cross-sectional study on patient experiences of receiving oral hygiene advice. Submitted by Holloway JA, Davies M, West NX from University of Bristol and presented by Jessica Holloway.
Commendation: Evaluation of Remote Oral Health Consultations provided during the Covid-19 Pandemic. Submitted by Elyoussfi S, Joseph J, Li J, Irving M, Evans P, Pearson N from Kent Community Health Foundation Trust and presented by Sohaila Elyoussfi.
Each winning poster submission received £200 and a certificate. For further information on BASCD awards and prizes, please visit www.bascd.org/conferences-and-events/awards-and-prizes